PHUTURE TRAXX
Phuture Traxx is a DJ, producer, labelmanager (Neverending), music journalist and promoter from Germany, who spreads his sound and vibe in some of the best clubs and events worldwide. With many years of DJing behind him Phuture Traxx performed in different countries like Germany, France, Switzerland, UK, Indonesia, Russia, Japan, Qatar, Spain, Belgium, Portugal including major gigs on international wellknown events like Loveparade, Street Parade, Time Warp, Energy, Moving City Festival, Sea of Love Festival and others.

Phuture Traxx plays an explosive electronic music cocktail from groovy Techno and Minimal over rockin Techhouse to trippy Elektrohouse, which guarantees jampacked and rocking dancefloors!

This perpetually inspired artist and music lover played together with world best acts - he is definitely one to watch!
Partager la biographie de Phuture Traxx sur les réseaux sociaux :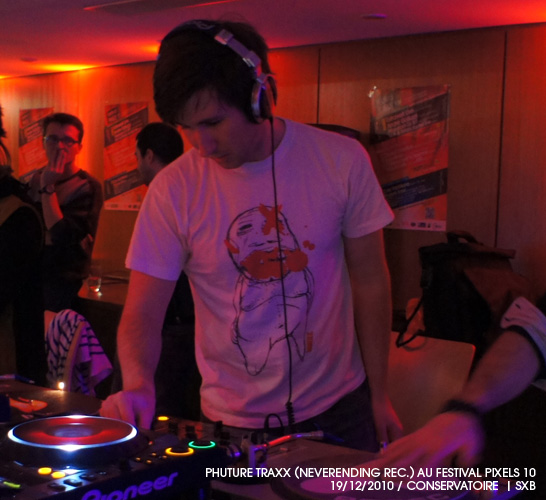 On the producing side, Phuture Traxx works for the label Neverending Records, based in Paris. Citizen Kain, Phuture Traxx and Meda are managing this new recordlabel (12"-Vinyl + digital, check www.myspace.com/neverendingrec for more infos)

Together with his "partner in crime" Citizen Kain, Phuture Traxx has a quite impressive discography incl. remixes and EPs for labels like Neverending, Trapez Ltd., No-Logik, Agile, Dogma, Janemba, Flicker Rhythm, Phobiq, Amazone, Diva, Freaxow, Woh Lab, Beat'em Up, Italo Business and others...

The releases & remixes enjoy regular supports by world's top-league such as Richie Hawtin, Dubfire, Dave Clarke, Monika Kruse, Felix Kröcher, Len Faki, Slam, Tomcraft, John Acquaviva, Mihalis Safras, Moguai, Ahmet Sendil, Martin Eyerer, Agoria, Phil Kieran, Uto Karem - to name a few...

Phuture Traxx also owned the NITEBEAT Magazine - a free guide for electronic music with 30,000 printed copies each month - from 1998 till 2010. He is also promoter of the Big Bang- and Electronic Sensation events; these parties are ranked among the most successful events in whole of South Germany and the North of France! So get ready to swing to the rhythm !